Por qué debemos firmar documentos al asegurar un auto? -Cápsula # 24
February 16, 2022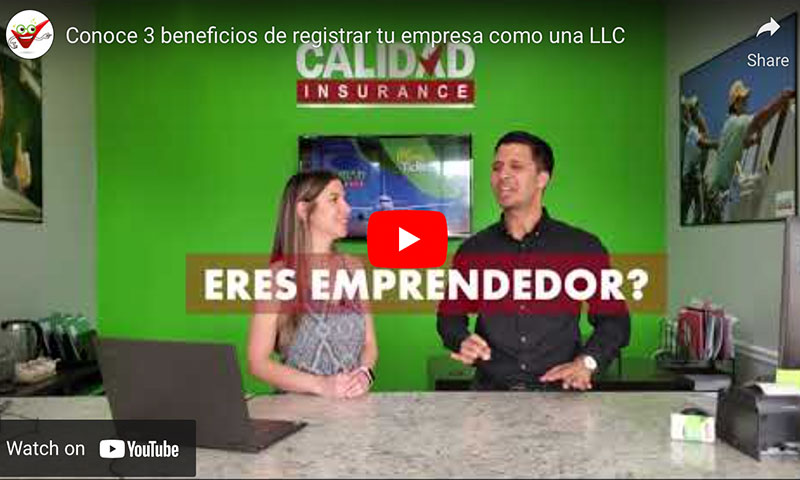 Conoce 3 beneficios de registrar tu empresa como una LLC
February 25, 2022
Recordemos que el seguro Comercial de General Liability es un tipo de póliza de seguro que todos los negocios deben tener, ya que ayuda a protegerlos de reclamos que se producen como resultado de las operaciones normales del negocio. Generalmente ofrece cobertura por pérdidas ocasionadas a terceros, ya sea lesiones personales o a la propiedad.
Los seguros comerciales de General Liability se componen generalmente de seis coberturas principales. Siempre es importante preguntar a tu agente de seguros cuales de estas seis coberturas están en tu cotización o póliza ya que no todas las pólizas ofrecen necesariamente las seis.
También es importante tener en cuenta que cada cobertura tiene límites máximos de pago y estos son diferentes. Siempre consulta con tu agente de seguros en Calidad Insurance en Georgia o Carolina del Sur para asegurarte que tienes las coberturas necesarias para cada posible escenario.
A continuación, te compartimos cuales son las seis coberturas principales:
Daños físicos y/o a la Propiedad (Bodily Injury and Property Damage): Cobertura por lesiones personales a terceros o daños a la propiedad a terceros.
Exposición en Instalaciones y Operaciones (Premises and Operations Exposure): Accidentes ocasionados en la instalación principal del negocio.
Productos y Post-Trabajos (Products and Completed Operations): Responsabilidad por pérdidas que surgen de productos fabricados, vendidos, distribuidos; o por trabajos completados por el asegurado.
Lesiones Personales y Publicitarias (Personal and Advertising Injury): Te cubre por reclamos hechos en contra tuya cuando eres demandado por injurias, difamación, calumnia o infracciones de derechos de autor, entre otras.
Daños a Instalaciones Rentadas (Damage to Rented Premises): Esta cobertura protege instalaciones del negocio rentadas por el asegurado, cuando dichas instalaciones sufren daños o pérdidas ocasionadas por fuego.
Pagos Médicos (Medical Payments): Cobertura a terceros por gastos médicos que resulten de accidentes ocurridos en tus instalaciones del negocio. Esto es independiente de culpa y es una cobertura adicional separada de la cobertura por lesiones personales.
Recuerda que estas son las coberturas principales en una póliza de seguro comercial de General Liability, pero es importante saber que cada negocio es diferente y tiene necesidades distintas. En Calidad Insurance estamos disponibles para ayudarte a obtener el seguro comercial correcto para que tu negocio este protegido.
See English Version Here
What are the main coverages of your Commercial General Liability or General Civil Responsibility policy?
Let's remember that Commercial General Liability insurance is a type of insurance policy that all businesses should have, as it helps protect them from claims that occur as a result of normal business operations. It generally offers coverage for losses caused to third parties, whether personal injury or property.
Commercial General Liability insurance is generally made up of six main coverages. It is always important to ask your insurance agent which of these six coverages are in your quote or policy since not all policies necessarily offer all six.
It is also important to note that each coverage has maximum payment limits, and these are different. Always check with your insurance agent at Calidad Insurance in Georgia or South Carolina to make sure you have the necessary coverage for each possible scenario.
Next, we share what the six main coverages are:
Bodily Injury and Property Damage: Coverage for personal injury to third parties or property damage to third parties.
Exposure in Facilities and Operations (Premises and Operations Exposure): Accidents caused in the main facility of the business.
Products and Completed Operations: Liability for losses arising from products manufactured, sold, distributed; or for work completed by the insured.
Personal and Advertising Injury: Covers you for claims made against you when you are sued for libel, defamation, slander or copyright infringement, among others.
Damage to Rented Premises: This coverage protects business facilities rented by the insured when said facilities suffer damage or loss caused by fire.
Medical Payments: Coverage to third parties for medical expenses resulting from accidents that occur in your business facilities. This is independent of the fault and is a separate additional coverage from the personal injury coverage.
Remember that these are the main coverages in a commercial General Liability insurance policy, but it is important to know that each business is different and has different needs. At Calidad Insurance we are available to help you obtain the correct commercial insurance so that your business is protected.